ABOUT INFINITY VETERINARY IMAGING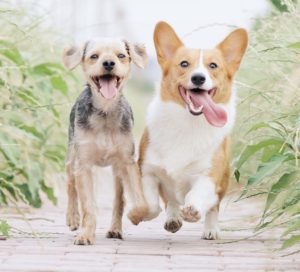 OUR STORY
Infinity Veterinary Imaging was born out of a desire to serve people by providing advanced diagnostic imaging services for pets. Our current caseload consists primarily of small companion animals to include occasional exotic pets. Expansion into large animal medicine is anticipated in the future. No challenge is considered too great.
Founded in September 2017, we are excited to call Nashville home and to be a part of this growing city.
MEET THE TEAM
Erica Baravik-Munsell, DVM, DACVR
Board-Certified Veterinary Radiologist
Owner, Infinity Veterinary Imaging
Dr. Munsell is board-certified with the American College of Veterinary Radiology. She underwent five years of additional training beyond veterinary school and passed a two-part rigorous exam to become an imaging specialist in the areas of radiography (x-ray), ultrasound, CT, MRI and nuclear medicine.
She graduated with her DVM from Mississippi State University's College of Veterinary Medicine in 2003. Following veterinary school, Dr. Munsell completed two years of discipline-specific internship training in diagnostic imaging before being accepted to a three-year radiology residency at her alma mater, MSU. After her residency, she worked as an assistant clinical professor in the Veterinary Teaching Hospital at Mississippi State, assisting with the day-to-day patient caseload (all species) as well as teaching veterinary students and veterinary technician / technology students. Veterinary medical education and high-quality medical practice are among her passions.
Dr. Munsell is licensed in Tennessee and Mississippi. She is a native Mississippian with a love of the South. She and her family relocated to Nashville in 2013. She is a wife, mother and a friend to their two pets: Syndey, a 10-year-old Newfoundland dog, and Jimmy, a 3-legged tabby cat. When not working or spending time with family, Dr. Munsell enjoys horseback-riding, hiking, playing cello, cooking, and reading.
Kayla Boswell, LVMT
Licensed Veterinary Medical Technician
Practice Manager
Kayla has been with IVI since the company's start in 2017.  She graduated from Columbia State Community College with her degree in Veterinary Technology and is licensed to practice alongside a veterinarian in the state of Tennessee.  Kayla has experience in general practice, Emergency Medicine, Behavioral Medicine and Internal Medicine.
Kayla works remote and lives in northern TN with her husband, daughters, and their beloved dogs. When not working Kayla enjoys baking and cooking, anything having to do with water, and hiking.
Katherine (Katie) Reid, ARDMS, RVT, RDCS
Registered Diagnostic Medical Sonographer
AAVSB RACE Provider Katie joined the IVI team in 2021. She graduated from Tennessee Technological University in 2015 and received the W.A. Howard Award (Summa Cum Laude 4.0 GPA).
During her time at TTU, she earned her Bachelor of Science Degree in Biology with a concentration in Microbiology.
She then completed the Diagnostic Medical Sonography Program at Volunteer State Community College with a 4.0 GPA while earning the programs's Academic Excellence Award. Katie is registered through the American Registry for Diagnostic Medical Sonography in Echocardiography, Abdominal/ Obstetric/Gynecology, and Vascular Sonography.
She also acts as an AAVSB RACE provider, performing hands-on, tailored ultrasound trainings to veterinarians / licensed veterinary technicians in several states. Attendees learn practical ultrasound skills while earning up to 8 hours of CE credit. In her free time, Katie loves spending time with her family, friends, and pets. She also enjoys hiking, traveling, and horseback riding.
Sarah Lazenby, BS, RDMS, RVT
Registered Diagnostic Medical Sonographer
Sarah joined the IVI team in 2022. She graduated from MTSU in 2013 with a Bachelor of Science in Animal Science and worked in veterinary medicine for 10 years before deciding to go back to school. She then attended Volunteer State Community College completing the Diagnostic Medical Sonography Program and graduated with the program's Academic Excellence Award. Sarah is registered with the American Registry for Diagnostic Medical Sonography in abdominal and obstetrics/gynecology as well as and vascular sonography. In her free time, she can be found with her husband, Matthew, their dog (Waylon), their son, and her family or working livestock with her brother's show stock operation.
Rebecca Upchurch
Veterinary Assistant
Rebecca started with IVI in 2017 as a relief veterinary assistant and in 2019 joined us full-time. She is a Nashville-native and has worked in veterinary medicine for over 15 years in general practice and emergency.
Bonnie Austin
Veterinary Assistant
Bonnie started with the IVI team in 2019 as a relief veterinary assistant. She joined IVI full-time at the end of 2021.
Kaila Wiek
Virtual Assistant
Kaila joined IVI in 2022. She has a background as a veterinary assistant in general private practice. Kaila grew up around horses and farm animals and has had many companion animals.
Kaila works remote and lives in Georgia with her husband, daughter, and their pets.
Mel Scudder
Veterinary Assistant
Mel joined IVI in 2023, a highly experienced Veterinary Assistant with over a decade of dedicated service in the veterinary field. Mel's passion for animals and their well-being led to a diverse career, encompassing specialty medicine, emergency medicine, and general vet practices.
In 2014, Mel earned a Master's degree in Social Work from the esteemed University of Tennessee, specializing in Veterinary Social Work. The completion of an intensive internship at the university's veterinary teaching hospital further enriched her expertise in this unique field.
When not in the clinic, you can find Mel indulging in interests beyond the world of veterinary care. A devoted bookworm, Mel spends leisure time exploring literary realms and discovering new stories that captivate the imagination. In addition to reading, Mel also finds joy in learning the art of crocheting and knitting, with usually at least one of her four-legged companions by her side. With a heart full of empathy and a wealth of experience, Mel stands ready to contribute to your beloved pets' health and happiness.